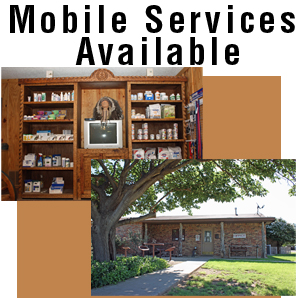 Animal Care Supplies
Since 1987, Brillhart Veterinary Clinic has been providing high quality veterinary care and boarding services for small pets and large animals in the greater Slaton area. It only makes sense, then, that we would also want to provide the very best animal care supplies in Slaton, TX for dogs, cats, livestock and their attentive owners. Going to the supermarket or large chain pet store for pet supplies can be overwhelming, and it can be difficult to know which supplies are really worth buying. Here at Veterinary Animal Clinic, we stock only the best products to ensure that you are able to provide the very finest for your pet.
Few things in life are more rewarding than having a pet. They treat you with complete loyalty, and depend on you for food and healthcare as well as love and support. Here at Brillhart Veterinary Clinic, we want to help area pet owners give their pets the best care possible in whatever way they can, whether that means helping them make the right dietary choices or providing the toys pets need for good exercise. That's why we stock a large array of pet supplies in Slaton, TX, from medicine and food to toys and leashes, all of which are made to improve every aspect of your pet's life. Take a look at this list of the pet care items we usually have in stock:
Over the counter products
Fly control
Dental treats
Pet toys
Science Diet products
Flea and tick products
Preventative health care products
Grooming products
Leashes
Prescription food
Come by Brillhart Veterinary Clinic anytime to see our full selection of pet supplies. You can also reach us by calling 806-828-4175, or by visiting our Contact Us page. We look forward to hearing from you, and we're eager to be of service in helping you care for your pets.