Boarding Services
If you are looking for high quality, dependable and very hands-on pet boarding in Slaton, TX, look no further than Brillhart Veterinary Clinic. With our compassionate staff, hands-on approach and commitment to 24 hours a day, seven days a week supervision and care, you cannot go wrong by trusting us with your beloved dog, cat or other animal. Here's an overview of what you can expect from our cat and dog boarding in Slaton, TX.
Here at Brillhart Veterinary Clinic, we believe that animals are as perceptive as humans, and that they need a comfortable, welcoming space. That's why we take special care to provide the amenities your dogs and cats need to stay healthy and happy. Those services include the following:
Heating
Fully trained attendants
Small pets
Air conditioning
Dogs
Animal exercising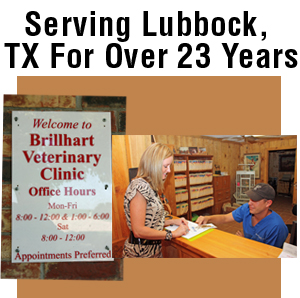 If your animals need to spend a few days outside of your home, they couldn't find a better place to do so than at Brillhart Veterinary Clinic. With fully trained and certified veterinary staff taking care of your animals 24 hours a day, seven days a week, you are free to vacation in comfort. In addition to knowing that your pet is experiencing excellent care, you will have the peace of mind of knowing that your pet's vet is close by if your dog or cat should need any help. Bring your pets into Brillhart Veterinary Clinic today and know that your animals are being well cared for while you travel for business or pleasure.
For more information about our boarding options, please give Brillhart Veterinary Clinic a call anytime at 806-828-4175, or check out our Contact Us page. We look forward to being your pet's home away from home, and to providing you with sound peace of mind while you travel.